Wysyłka w ciągu

2-4 dni

Cena przesyłki

0

Dostępność

Brak towaru

0

szt.
Custom Installation - Full Lens-Shift & Lens Options
Widescreen WXGA - 4500 Lumens
Premium network monitor & control - Crestron Roomview support
Extensive connectivity - HDMI, DVI, 5BNC, 2 x VGA

Widescreen, HD Ready. The Optoma EW775 has almost limitless installation possibilities, its combination of high performance and brightness means it achieves stunning images in most environments.
Using centre lens design, full lens shift and interchangeable lens options, the flexible and powerful EW775 is a truly versatile installation solution.
Boasting an exceptional 4500 ANSI Lumens, perfect for conferencing facilities, large auditoriums, halls and bars,its true brilliance must be experienced. Ideally partnered with widescreen notebooks and HD sources, the EW775
creates seamless, smooth and radiantly bright corporate presentations, videos and movies.
† 3D Technology
Using the inherent speed of DLP technology, The Optoma EW775 can output video and images at an astonishing rate of 120Hz, allowing you to show full screen, full colour, stereoscopic 3D. The 3D effect is generated by splitting this signal into two standard video streams, one for each eye. Using DLP® Link™ technology, the 3D glasses synchronise with the image on screen to filter each stream to the correct eye. Your brain then combines the two streams to make them jump into life.
The 3D features of Optoma projectors can only be used with compatible 3D content. Typical applications include use with 3D educational or 3D design and modelling systems. Support for 3D TV broadcast systems, (SKY in the UK) or Blu-ray 3D™ will require the Optoma 3D-XL that is available separately.
Lens Shift
The EW775 handles a variety of installation challenges that come with large halls, conferencing facilities, auditoriums and bars. Lens shift aligns the projected images centrally on screen and can be adjusted horizontally or vertically without moving the unit.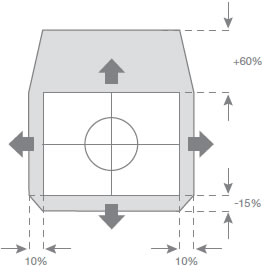 RS232 Control
The extensive RS232 command set makes it simple and easy to control the EW775 with any control system.
AMX Compatibility – Dynamic Discovery
Protocol is incorporated into the EW775. This feature allows for easy installation with AMX control systems.

Lens
The centred lens design allows greater flexibility, ensuring the projector can be easily installed.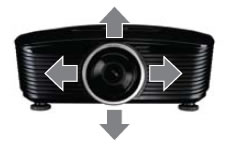 Optional Lenses
Easily attached short and long throw lenses give you the option to install the EW775 in different sized locations.
The short throw lens with a throw ratio of 0.81:1 is ideal for rear-projection installations.
The STD throw lens with a throw ratio of 1.62 – 2.03:1 is ideal for standard installations
The long throw lens with a throw ratio of 2.03 – 3.05:1 is ideal for large conference rooms, auditoriums and any other large venue.
Extensive Connectivity
This native WXGA projector accepts a wide variety of computer and video input signals. Connectivity includes: 5BNC, HDMI, DVI-D, Component Video, dual VGA (with SCART and YPbPr support), S-Video and Composite.
Five audio inputs for individual PC and video connections enable the EW775 to function as an audio switcher and volume controller, thereby eliminating complicated and costly additional audio hardware and cabling.
Crestron RoomView® - NETWORK CONTROL
RoomView® software provides a custom configurable interface to monitor, manage and control every device in every room remotely from any computer.
Manage up to 250 projectors at the same time (via master PC).

Control and alter the projector settings using a simple web browser page, including OSD menu control.

Set up email alerts for warning messages.

Ideal for large installations in both the educational and business environments.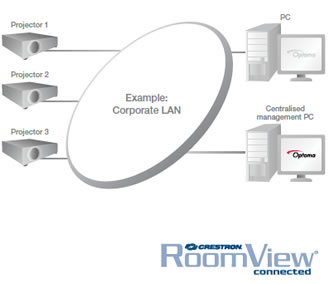 True WXGA Resolution
The EW775 is the perfect companion for widescreen laptops. Your presentations will appear as sharp and detailed as they do on your widescreen laptop in WXGA (1280 x 800). WXGA resolution gives 30% more pixels than XGA.

Ostatnio oglądane produkty

Inni Klienci kupili również

Produkty podobne